Lara Harvey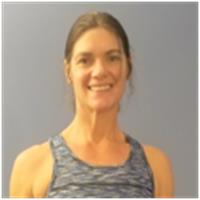 Lara's goal as a personal trainer and strength and conditioning coach is to empower and guide people on their path to developing their own strength, energy and healthy life balance, through fitness and nutrition.
She is a NASM Certified Personal Trainer, with a Diploma in Personal Training and a Certificate in Nutrition from the National Personal Training Institute. She is also a P90X Group Instructor.
Originally from New Zealand, Lara has travelled and worked all over the world, balancing a career in law and business management with her love of the outdoors and a healthy lifestyle. Her passion for exploration, adventure, and expanding her perspective on the world keeps her energized. Teaching scuba diving in Mexico and Thailand (where she met her husband of 17 years) and leading teens on wilderness trips in West Virginia and Idaho are just a few of the life experiences that have shaped her path.
Since moving to the DC area in 2015 with her family, Lara has refocused her energy and passion for fitness in the gym. After struggling to keep her healthy life balance within the juggle of family and work, she challenged herself to lose 30lb in 3 months for a 'bucket list' European trip with her mom. In doing so, she discovered the energy and power in body and mind that comes with strength training, small group workouts and healthy nutrition. The key for her is to have fun, and to enjoy the journey.
Having found her own energy and balance, Lara is inspired to help others on their own fitness journey. She is motivated by a desire to combine the energy of small group fitness with the individualized attention of personal training. Understanding the benefits of strength training in building strong muscles and bones at any age, Lara incorporates strength, stability, endurance and flexibility programs in all her group classes and personal training sessions. Whatever age, fitness level, or physical limitations you have, Lara will guide you with an effective, safe and energizing training program to enable you to reach your goals.
Away from the gym Lara can be found competing in obstacle course races, hiking, biking, trail running, white water paddle boarding or any other activity she can get her family to join her in. She's even got her 12 and 14 year old sons to compete in a few races with her. Having completed 5 Spartan and Tough Mudder events in the past year Lara is currently training a team of local moms for the upcoming season
Lara Harvey instructs the following:
Improve your muscular strength and endurance. Get STRONGER. This efficient workout uses weights, bands, and your own bodyweight to create resistance and build muscular strength and endurance. We work the whole body, especially your abs, glutes and back.




A great class for beginners and those wanting a slower paced class.

Strengthen your bones and improve your balance. We will work on fall prevention techniques and work on stability as well.




Get your heart pumping with this total body strength and conditioning workout. The class is a mix of strength training and high intensity intervals with a focus on building core strength. Push yourself to the max and you'll walk away sweating with that post workout high, feeling stronger and energized.