PULSE PERSONAL TRAINING
To schedule a personal training appointment, click here.
From the moment you walk through the doors, it's 100% about you!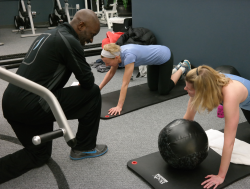 Each of our personal trainers has more than 10 years of experience, and that dedicated attention to the individual person has taught us the art of matching your needs to your goals.
We create personalized programs for you, utilizing the functional movement screen (FMS) method, which readily identifies functional limitations and asymmetries. Based on screen results, corrective exercises are implemented to rebalance the body and prevent injuries. Our goal is to stimulate your mind, challenge your body, and elevate your pulse to restore your well-being. Whether you're training for a triathlon, anniversary, or reunion, want to improve your general health, or have decided it's time to get in shape, we pledge to work tirelessly to help change your body, and your life!
PULSE Fitness also offers golf-specific Pilates training. Each client will receive golf fitness assessments and personalized integrated training workouts that will help prevent golf-related injuries. This program will work to improve your body's natural motion, correct muscle imbalances, strengthen your body, and improve your posture.