Ochieng Asugo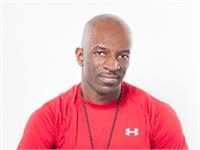 Personal Trainer Get ready to see results with personal trainer, Ochieng Asugo. He's been a fitness professional for more than 10 years – focusing on personal training and group exercise instruction. As a former track and field competitor and coach, Ochieng has a passion for running and sports conditioning. But, as a personal trainer, he knows one size doesn't fit all. Ochieng understands the importance of each client's individual needs and he can help you develop your plan to reach your fitness goals in no time. Ochieng received his B.S. in Communication Studies from Towson University. He is a National Academy of Sports Medicine Certified Personal Trainer and Fitness Nutrition Specialist. He is also a certified USA Track and Field Coach (level 1). When he's not helping motivating others, Ochieng is keeping active himself. He enjoys acting, discovering new music and taking part in many recreational sports. He's also an avid runner and you may see him lacing up at local 5k races.
Ochieng Asugo instructs the following:
HIIT, or high-intensity interval training, is a training technique in which you give all-out, one hundred percent effort through quick, intense bursts of exercise, followed by short, sometimes active, recovery periods. This type of training gets and keeps your heart rate up and burns more fat in less time.




Cardio and Strength Training: Time to get strong combining balance, stability and strength moves. Mix in cardio intervals and you have a full body workout.




Pulsetata Plus - This high intensity class combines tabata cardio training with strength training to give you a total body workout.




Based on the principles of the Japanese Tabata training method. Pulsetata is a form of high intensity interval training. All sets are four minutes long with eight,- twenty second intervals in each set. Hit every muscle group during this high calorie burning class.




A variation of balance, stability and strength moves. This class uses a continuous flow of exercises designed to streamline and sculpt your entire body. Non-stop, action-packed movement keeps the heart rate up for one super effective sculpting session.




A strength training class using the TRX straps ending with core training using props including balls, magic circles and more! A great class for beginners and those looking for a more gentle class.




Cardio, Core and Correctives: Give your cardiovascular system a boost with interval training and cardio circuits. Increase your stability with core strength training. Address your movement patterns with corrective exercises.




A great class for beginners and those wanting a slower paced class.

Strengthen your bones and improve your balance. We will work on fall prevention techniques and work on stability as well.