PULSE PILATES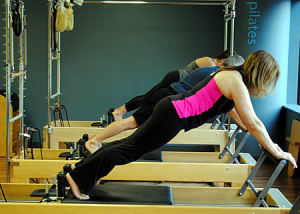 To schedule a Pilates session, click here.

PULSE Pilates sports the most comprehensive lineup of Balanced Body Pilates machines in the DC Metropolitan area.


Our fully-equipped studios feature two large, fully equipped Pilates studios with four maple wood Reformer/Cadillac converter beds, four Wunda chairs, two CoreAligns and two Ladder Barrels. PULSE Small Group classes are limited to
four people and are hand-selected
based on ability levels.
At many big gyms, instructors need only a three-day certification. Ours have a minimum certification of 900 hours, so you don't just enjoy a full range of exercise, but classes of the highest quality.
Each studio features:
Four Reformers with Cadillacs
Four Wunda Chairs
Two CoreAlign Units
One Ladder Barrel
Whether you're an athlete training for your sport, or looking for a trim figure and a balance of body and mind, or even rehabilitating yourself after an injury (or to avoid one!), you'll get the attention you need from PULSE Pilates.